February 4
Saturday - 7:00 p.m. for The Noble Bachelors, A Sherlockian Society, at the Lemp Mansion. in St. Louis. "Jack the Ripper, Conan Doyle and the Foundations of Modern Police Work."
April 10
Monday - 7:30 (Private) for Philanthropic Educational Organization in Kirkwood. "General Jessie--The Unvictorian Victorian."
May 6 - Saturday, 10:00 a.m.
Here's the press release (minus my picture.)
Here's a little quiz that might save your life. What is the most toxic substance known to man? One gram can kill 80,000 people. AND YET, people seek it for beauty's sake. Poisons are fascinating because they are the ultimate paradox--good and bad at the same time.
To find out more, come see "Poisons You Personally Know," a St. Louis Writers Guild workshop featuring award-winning historical mystery author Fedora Amis, from 10 a.m. to noon, May 6, at The Lodge Des Peres, 1050 Des Peres Rd, St. Louis, MO 63131. Free for Guild members; $5 for nonmembers.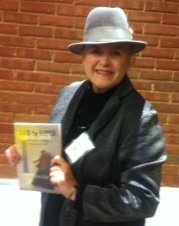 Fedora presents "Jack the Ripper in St. Louis--a Victorian Whodunit" to St. Louis County Civilian Retirees.
Photo by Rosemary Wilson
How's this for a Christmas present? Talented artist and good friend Jennifer Stolzer created this image of my heroine Nelly Bly wannabe Jemima McBustle. Jemmy writes for a fictitious newspaper in 1898 St. Louis. Isn't she adorable?
Jennifer, Thank you--with a capital T.
You can see more of Jen's charming artwork at her website
jenniferstolzer.com